What is Proposition 6?
Proposition 6 on the November 2018 ballot is intended to repeal Senate Bill 1 (SB 1), the Road Repair and Accountability Act of 2017. If Proposition 6 passes, SB 1 would be repealed. Gas and vehicle fees might be cheaper, but many projects funded through SB 1 in San Mateo County to improve highways, roads, bridges, trails, pedestrian safety, and travel would be delayed indefinitely or cancelled. Proposition 6 would also require voter approval for any new, higher, or extended fuel tax or vehicle fee in the future, requiring alternative funding sources for future transportation projects.
What is Senate Bill 1 (SB 1)?
SB 1 is a landmark transportation investment package that increases funding for transportation infrastructure across California by more than $5 billion annually over the next 10 years. SB 1 investments, funded by a combination of gas taxes and vehicle registration fees, are split equally between state-maintained transportation infrastructure and local transportation priorities including local streets, transit, and pedestrian and bicycle projects.
What Could Go Away If Proposition 6 Passes:
$21.5 million to fix potholes and improve safety on local streets and roads (annually).
$4.5 million towards bicycle, pedestrian, and safe routes to school improvements.
$14.5 million towards make bridges safer and repair traffic devices on state highways.
$164 million contribution to upgrade and improve Caltrain service.
$235 million contribution to address congestion on the US 101.
$1.83 million for climate change adaptation planning to protect the transportation network to the effects of climate change.
$1 million maintenance and rehabilitation of rail cars.
$1 million for grade crossing improvements.
$3 million annually for transit operations and capital projects.
$15 million SamTrans express bus service on US 101.
For more information see the fact sheet below.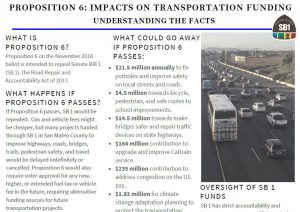 Cities/Agencies in San Mateo County that has taken a position on Prop 6:

| | |
| --- | --- |
| Atherton | No action taken |
| Belmont | TBD |
| Brisbane | Joined Coalition to Protect Local Transportation Improvements |
| Burlingame | Opposed – Resolution |
| Colma | TBD |
| Daly City | Opposed – Resolution |
| East Palo Alto | Opposed – Resolution |
| Foster City | TBD |
| Half Moon Bay | TBD |
| Hillsborough | TBD |
| Menlo Park | TBD |
| Millbrae | Opposed – Resolution |
| Pacifica | Opposed – Resolution |
| Portola Valley | Opposed |
| Redwood City | TBD |
| San Bruno | TBD |
| San Carlos | Opposed – Resolution |
| San Mateo | Opposed |
| County of San Mateo | TBD |
| South San Francisco | TBD |
| Woodside | TBD |
| C/CAG | Opposed – Resolution |
| Caltrain | Opposed – Resolution |
| San Mateo Transportation Authority | Opposed – Resolution |
ADDITIONAL LINKS
Rebuilding California – State of California
MTC – Funding at Risk Proposition 6
ABAG – Prop 6 Transportation Funding at Risk (Presentation and factsheet templates)