STATE TRANSPORTATION FUNDING (2017 ROAD REPAIR AND ACCOUNTABILITY ACT)/PROPOSITION 6

What is SB1/State Transportation Funding?
Senate Bill 1 (SB 1), the Road Repair and Accountability Act of 2017, is a landmark transportation funding package that invest approximately $5.4 billion annually in the state for fixing roads, freeways, and bridges across California, and provides funding for transit and tackling congestion on commute corridors.
SB1/State Transportation Fund Investments in San Mateo County:
$21.5 million to fix potholes and improve safety on local streets and roads.
$4.5 million towards bicycle, pedestrian, and safe routes to school improvements.
$14.5 million towards make bridges safer and repair traffic devices on state highways.
$164 million contribution to upgrade and improve Caltrain service.
$250 million contribution to address congestion on the US 101.
$1.83 million for climate change adaptation planning to protect the transportation network to the effects of climate change
What is Proposition 6?
Proposition 6 on the November 2018 ballot is intended to repeal SB 1. If Proposition 6 passes, SB 1 fuel taxes and fees would be repealed. Gas and vehicle fees would be somewhat cheaper, but current SB 1-funded projects in San Mateo County to improve highways, roads, bridges, trails, pedestrian safety, and travel would be delayed indefinitely or cancelled. Proposition 6 would also require voter approval for any new, higher, or extended fuel tax or vehicle fee in the future, requiring alternative funding sources for future transportation projects.
For more information see the fact sheet below.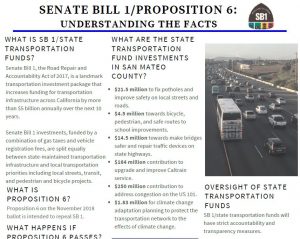 ADDITIONAL LINKS
Rebuilding California – State of California
MTC – Funding at Risk Proposition 6
ABAG – Prop 6 Transportation Funding at Risk (Presentation and factsheet templates)
SB 1 Generic Powerpoint Presentation Template
SB 1 Oppose Repeal Sample Resolution Template
SB1 Updates in San Mateo County
Millbrae City Council Opposes SB 1 Repeal – Click Here For Resolution
Caltrain Board of Directors Opposes SB 1 Repeal – Click Here for Resolution